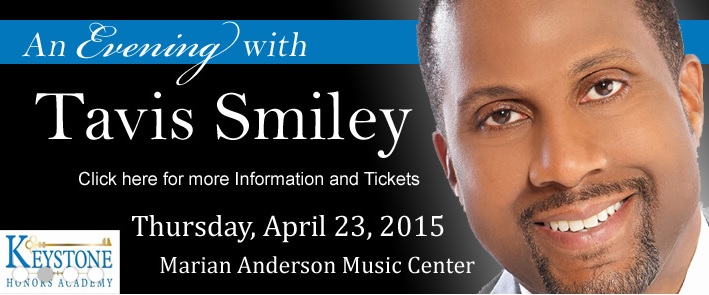 On Thursday, April 23, 2015, Cheyney University's Keystone Honors Academy will host An Evening with Tavis Smiley in the Marian Anderson Music Center Auditorium on the historic campus. A VIP Dinner will be held at 5 p.m. in Carnegie Hall, followed by the lecture at 7 p.m. Tickets are available here for each.
From his celebrated conversations with world figures to his work to inspire the next generation of leaders, Smiley—broadcaster, author, publisher, advocate, and philanthropist—has emerged as a voice for change. He is currently the host of the late-night television talk show Tavis Smiley on PBS, as well as The Tavis Smiley Show from Public Radio International (PRI).
Smiley has written 18 books. His memoir, What I Know for Sure: My Story of Growing Up in America, became a New York Times best seller, and the book he edited, Covenant with Black America, became the first nonfiction book by a Black-owned publisher to reach #1 on The New York Times best-sellers list.
In the New York Times best seller, The Rich and the Rest of Us: A Poverty Manifesto, Smiley and his co-author, Dr. Cornel West, challenges all Americans to re-examine their assumptions about poverty in America—what it really is and how to eradicate it. Dr. West has also spoken at Cheyney, as a part of the Keystone Honors Academy lecture series.
Smiley's most recent text, Death of a King: The Real Story of Dr. Martin Luther King Jr.'s Final Year, is an eye-opening account of widespread assaults on King's character, ideology, and political tactics and how they shaped both the year leading up to his death in 1968 and his lasting legacy.
His forthcoming book, My Journey with Maya, is a story of friendship, love and courage. Smiley shares personal memories of his 28-year friendship with Maya Angelou, one of history's most fascinating women. The late Angelou spoke at Cheyney on behalf of the Academy in March 2012, in what turned out to be one of her last public appearances.
"The honors program works to raise funds for talented students who would not otherwise have the means to access a college education," explained Dr. Tara Kent, Dean of the Keystone Honors Academy at Cheyney University. "The KHA program has strong outcomes, and graduates students at a rate that is higher than the national average for all American colleges and universities, and our students are an excellent investment."
Sponsorship packages are available at many levels and capacities, and all proceeds from the event will benefit students in Cheyney University;s honors program. For sponsorship information contact Dr. John Graham, Vice President of University Advancement and External Relations at jgraham@cheyney.edu or call 610-399-2027, or Lawrence Green, Assistant Vice President of University Advancement & External Relations at lgreen@cheyney.edu or call 610-399-2137.
Click here to reserve VIP or general admission tickets.
If you would like to learn more about the Keystone Honors Academy or to make a donation to support scholarships for ambitious students at Cheyney University, click here. All checks should be made payable to The Keystone Honors Academy.
About The Keystone Honors Academy
The Keystone Honors Academy is Cheyney University's centerpiece program, providing a unique educational experience for academically gifted students. Annually, scholarship funds enable 130 Keystone Honors Academy students to pursue their educational and professional dreams. Many of these students would not be able to pursue a college degree without scholarship support. The honors academy's persistence rate is 82% and the program graduates students at a rate that is twice that of the national average for African Americans. There are more than 500 alumni of the Keystone Honors Academy, and they are employed in the public and private sectors, spanning the fields of medicine and health, business, law, education, and public administration.