Written by John Mitchell, Philadelphia Tribune Staff Reporter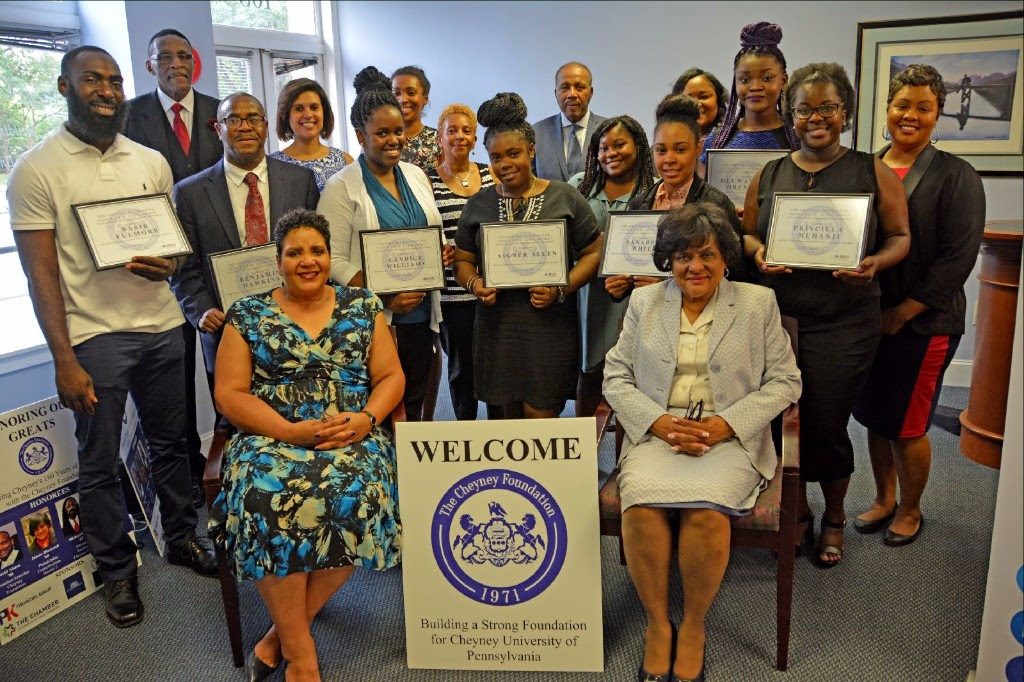 After a number of years spent crunching numbers for the Internal Revenue Service, Benjamin Hawkins had seen enough.
"Things started to turn in another direction," said Hawkins, 57, a 1991 Cheyney University graduate. "The politics got involved, and it just became a place that I didn't want to be a part of. So I figured I'd move on and do something different."
Hawkins, who has a degree in business administration, found that something different a few years ago, re-enrolling at Cheyney to pursue a second degree in biology. He expects to graduate soon and pursue work as either a chiropractor or in physical therapy with the help of a S.T.E.M scholarship he and seven other Cheyney students were presented with by PECO in conjunction with the Cheyney Foundation Scholarship Committee.
On Thursday, at the foundation's Front Street location, Hawkins was awarded a portion of a $25,000 scholarship along with Aigner Allen, Basir Fulmore, Khadijah Hogg, Priscilla Muhanji, Oluwayemisi Orensawo, Candice Williams, and Sanabria White.
Romona Riscoe Benson, director, corporate relations, at PECO Energy, presented the scholarships. The former President and CEO of the African American Museum in Philadelphia, Benson learned about Cheyney's rich history in her previous job. She implored the students to strive to be a part of the school's legacy.
"This was the first school for us," Benson said of Cheyney. "There are so many people walking around the streets today that are a part of this school's rich legacy that look like us. So whatever it is that we can do to be supportive of the mission of this school, PECO wants to be there. We want you to be all you can be. And no matter what the cost, get your education. Do whatever it takes to finish."
Hawkins said the scholarship will help him achieve a new goal for himself. The non-traditional student said he plans to continue working until he is about 80 years old.
"I don't feel like I'm getting a late start," Hawkins said, "I'm just going in a new direction. I take care of myself. I want to help people avoid the chronic sicknesses like diabetes and high blood pressure. I live a healthy life and want others to do so. I plan on helping them."
Allen, also getting a degree in biology, said she is the daughter of a single mother. She plans to become a veterinarian, and she added that every bit of financial assistance she gets – such as the scholarship – will help her reach her goal.
"This is going to be very helpful," she said. "I am honored to receive this. It means a lot to all of us that people want to see us reach our professional goals and that they are willing to make a financial commitment to students."