The Miracle of Cheyney University and the Miracle It Continues To Be…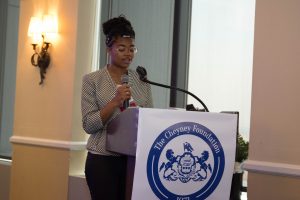 by Chantelle Fitzgerald
On Feb 25, 1837, with a $10,000 bequest from Richard Humphreys, the Institute For Colored Youth was established in Philadelphia, PA.  During this time, slavery in the United States was legal. Legal slavery meant that slaveowners controlled every aspect of a slaves life, including their access to education. Education was a privilege and one granted only to those that were deemed
Thus, how could a school (The Institute for Colored Youth" later named Cheyney University of Pennsylvania) be established during slavery times when it was literally illegal for people of color to be educated, let alone attend school? That is nothing short of a miracle.
Fortunately, the miracle of Cheyney continues through the alumni that have made a significant impact in our nation and around the world. Here is how…
Octavius Catto: A graduate from the "Institute of Colored Youth" a Philadelphian who dedicated his life to help improve the lives of black people in American. He was the Jackie Robinson of his time creating the first ever all black baseball team. He was the Rosa Parks of his time who protested the right for black people to be able to take public transportation and he died trying to advocate for the right to vote. Catto is a hero, an American treasure and Cheyney University is proud to have educated such an incredible and fearless man. It is a miracle that he was able to do all of these things during the late 1800's.
Julian Abele: An architect that went to Cheyney for his undergraduate degree. He went on to be the architect for the Free Library in Philadelphia (a major landmark in our city) the architect of the famous Philadelphia Museum of Art, the architect of many building of Duke University, and Harvard.  
Ed Bradley: A well known CBS journalists who was the first African American to be a White House Correspondent reporter and anchor for 60 minutes.
Jannie Blackwell: A councilwoman of Philadelphia for district 3 (West Philadelphia) who has made a tremendous impact on housing, education, and the African /Caribbean communities of Philadelphia.
Recent Graduate: A recent student that was homeless and who would have never gotten the chance to go to college, Cheyney gave her a chance. She not only took advantage of this opportunity but she also thrived.  She received (2) bachelors degrees from Cheyney University and was recently accepted into the University of Pennsylvania's School Medicine in Veterinary Science.
These alumni are a testament to what a Cheyney education can do. It can transform individuals into very high achieving and highly impactful citizens. The fact that a young woman from North Philadelphia having very little chance at getting into a 4 year college ends up going to Cheyney and will now be a student at one of the top veterinary schools in the country is not only a testament to her hard work and determination, but it is a testament to the miracle of Cheyney University.
Please consider giving support the #Cheyney180Challenge. This challenge not only marks the 180 anniversary of the oldest historically black college in the nation it is also an initiative to rally behind the school and give scholarships to current students.