Cheyney Foundation Leadership
The Cheyney Foundation is governed by a Board of Directors who oversees the fiduciary responsibilities of the organization.   The role of a board member is to advance the mission of The Cheyney Foundation by service, advocacy, contribution, the raising of funds, fiscal responsibility, and active stewardship
Cheyney Foundation 2018-2019 Board of Directors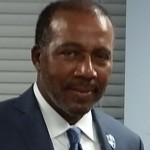 Irving Bailey is a Cheyney University of Pennsylvania alumnus '74. At Cheyney, Mr. Bailey earned a B.S. in Business with honors.
Larry Walker, Ed.D. - Vice Chairman
Dr. Larry J. Walker is an Assistant Professor, University of Central Florida, Department of Educational Leadership and Higher Education.
Carmen Martinez-Skinner - Treasurer
Tiffany Wilson - Secretary
Janelle L. Williams, Ph.D. - Director
Janelle L. Williams is the Assistant Director for Health Policy at The University of the Sciences in Philadelphia and a Visiting Scholar at the Penn Center for Minority Serving Institutions at the University of Pennsylvania.
Charlette Fairchild, Ph.D - Director
Dr. Charlette "Charlie" Thweatt Fairchild  is a native of Petersburg, VA. Charlie is a graduate of Old Dominion University (Norfolk, Virginia) and went on to receive her Masters and Doctorate from The College of William and Mary (Williamsburg, Virginia).
Keisha Wilkins - Director
Keisha is a wife and mother of three, born and raised in Philadelphia.  She attended West Chester University, where she earned her Bachelor's Degree in Psychology.
Wilbur Kirkland - Assistant Treasurer
Wilbur L. Kirkland is a 1969 Cheyney University Graduate. He earned his Bachelors Degree in English Education. Wilbur was born in Barnwell County, South Carolina.
Stacey Browning - Executive Assistant
A Business Education graduate of Dobbins Area Vocational Technical School located in Philadelphia, PA, Stacey shortly thereafter enrolled and completed training at the Washington School for Professional Secretaries located in Washington, D.C.