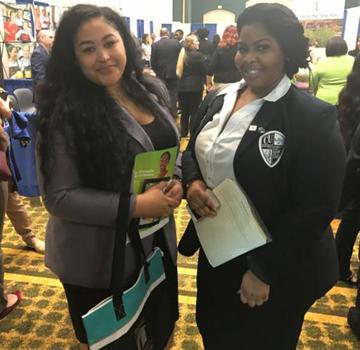 In 2017, the Cheyney Foundation supported the Hospitality Department and covered the attendance of 23 students at the National Minorities in Hospitality Conference (NSMH) in Florida. Senior Tyneesah Davenport shares her gratitude below:
"I would encourage all HRTM students to join NSMH. I wish I would have joined sooner than my junior year. But since I've joined, so many opportunities have come my way. It's a great way to build your self-confidence, social skills, and interview skills. I cannot begin to express how grateful I am to represent the FIRST Historically Black College and University—Cheyney University."
Many of the students learned vital lessons that they would not have learned having stayed in a classroom. Of the 8 graduating students who attended the conference, 6 students left with full time positions across the nation.
Read below to see some additional comments from the students who we sponsored on the trip:
Jamere Lawrence
(Senior, Business Administration Major – HRTM Minor) – "I would encourage future students to take part in this amazing conference because companies are really there to fill positions and want the best for all students!
THANK YOU, THANK YOU, THANK YOU!!! Your generous donations have made it possible for not only myself but for so many others to attain goals and dreams! THANK YOU!!!"
Quiyiim Saunders
Class of 2017
Major: Business Administration with HRTM Minor
 "I would definitely recommend the Conference because of the vast opportunities that are available for our students. Sponsors, thank you so much for making this possible for our students. We are all very thankful. For me personally, being able to attend a conference of this caliber and only having to put down $100 is an absolute blessing!"
Quiyiim Saunders pictured on the right, was amongst one of the six Cheyney University seniors that received full time, salaried positions through their connections at the conference.
As the reigning Mister Cheyney, Quiyiim has also spoke on his experience at the HRTM conference and how the Cheyney Foundation's contribution has supported his dreams at our Honoring Our Greats Event.